Social Program
(Only for registered participants and accompanying persons)
Welcome Party
at Hiroshima City Bunka Koryu Kaikan (18:30-20:30)
Miyajima Tour with Welcome Dinner
at Grand Prince Hotel (13:00-20:00)
By ship (for Miiyajima) or by bus and ferry boat(for Miyajima) By ship(for Grand Prince)
International Conference Center Hiroshima --- Miyajima --- Itsukushima Shrine --- Miyajima --- Grand Prince Hotel (Welcome drink 17:00~)
Banquet Dinner
at ANA Crowne Plaza Hotel (19:00-22:00)
*Program fee --- 10,000JPY
Farewell Party
at International Conference Center Hiroshima (14:30-17:30)
Miyajima Tour
Itsukushima Shrine
This beautiful location, known as one of the Three Views of Japan, was registered as a UNESCO World Heritage Site in 1996.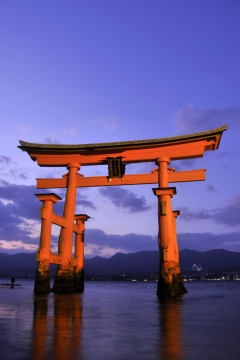 The island itself is said to have been a subject of nature worship from ancient times, and since the end of the Heian Period has also featured on center stage in Japan's history on a number of occasions, due to the considerable influence of Itsukushima Shrine and the importance of the island as a base for marine traffic.
Itsukushima Shrine is known for its large vermillion shrine gate (otorii) and shrine pavilions, positioned as if floating in the sea. In the closing years of the Heian Period, receiving strong support from Taira no Kiyomori (general of the Taira family), the shrine developed significantly, and currently the main sanctuary (honden), offering hall (heiden), oratory (haiden), corridor (kairo), and other major structures are all designated as either national treasures or important cultural properties of Japan. The site is home to numerous valuable art and craft works and military weapons donated by the Imperial family, nobles, military commanders and merchants, and the sutra scroll Heikenoukyo donated by Kiyomori is decorated lavishly and ornately as a demonstration to the world of the glory of Heike (the Taira family). It is a particularly noteworthy work in the history of Japanese art.

'Aki no Miyajima'
The beauty of the architectural style characteristic of the residences of the nobility in the Heian Period (shinden zukuri), in a bold structure built on the sea, possess a dignity typical of Japan. The harmony with nature spreading from the front shrine through to the rear, and the view of the shrine from the sea, are also exceptional.
From the middle of the Edo Period, Itsukushima Shrine developed into one of Japan's foremost tourist spots. The island, with its current population of just over 1,800 people, is visited by close to three million worshippers and tourists a year, from all over Japan and around the world, and now ranks alongside the A-Bomb Dome as one of the representative tourist locations of Hiroshima Prefecture. The island is also renowned as a notable site for viewing cherry blossoms, and is commonly known as 'Aki no Miyajima'.