Post Congress Events
Shinjiko-Lake Spa&ADACHI-Museum Tour(29.May 16:15-30.May 18:00) all by bus
*Tour Fee --- 20,000JPY
May 29th
International Conference Center Hiroshima --- stay at Tamatsukuri Onsen "Hotel Tamaibekkan"

May 30th
Tamatsukuri Onsen -- Adachi Museum of Art --- Tairyo Ichiba Nakaura(lunch) --- Hiroshima Station(contact)
Shinjiko-Lake Spa & ADACHI-Museum Tour
Tamatsukuri Onsen
Spa
This onsen, or hot spring, is located in Tamatsukuri (formerly Izumonokuni), in Tamayu Town, Matsue City, Shimane Prefecture. The hydrosulfate – chloride spring has a temperature of over 42 degrees Celsius at its source. Referred to in The Pillow Book as one of the three famous hot springs, it is the prefecture's number one spring in terms of both scale and history, and is one of the Sanin region's representative hot spring resorts together with Kinosaki Onsen, Kaike Onsen, Misasa Onsen and others.
This is an ancient hot spring said to have been found during the Nara Period by the god Sukunahikona no Mikoto. It is also mentioned in an excerpt from Izumo Fudoki (an ancient description of the culture, climate, etc of Izumo Province), and has been known from long ago as a 'sacred spring'. In the Edo Period, the area became a rest area for feudal lords of the Matsue clan, to the extent that a position known as 'Yu-no-suke' was established for those in charge of managing the hot spring.
The name 'Tamatsukuri' (= gem-making) is believed to have originated from the fact that high-quality blue agate was mined at Mount Kasen in this area, and for this reason people in the area made their living as gem craftsmen. It is also said that one of the three sacred treasures, 'Yasakani no Magatama' ('Genuine Heavenly Magatama'), was also created in this region, led by Kushiakarudama-no-mikoto, who is worshipped at Tamatsukuriyu Shrine, in which are kept numerous magatama (ancient curved beads) and kudatama (cylindrical gems) as shrine treasures.


Hotel Tamaibekkan
Of all the hotels or traditional inns in Tamatsukuri Onsen, this is one of the most famous.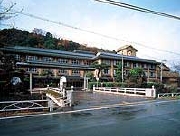 Located close to Izumo Grand Shrine (Izumo Taisha) and Matsue Castle, this hotel has five baths, called 'Gosai-no-yu' (five-color baths), and five footbaths, known as 'Gosai-no-ashiyu' (five-color footbaths).
The baths include an outdoor bath (rotenburo) and two types of indoor baths, as well as a mist sauna and dry sauna, while the foot baths are comprised of 'Kusushi-no-yu' 'apothecary bath', 'Meno-yu' (agate bath), 'Kakure-yu' (secret bath), 'Bikyaku-no-yu' (shapely legs bath), and 'Pukupuku-yu' (bubbly bath).
Beneficial effects:
【Sulfate ion】
This element has an anti-aging benefit to fully replenish the skin with moisture, making it firm and moist.
【Chloride spring】
This element creates a veil of salt on the surface of the skin, to properly keep in the beautiful skin elements and moisture absorbed in the hot spring.
【Low alkaline hot spring】
Similar to soap, this element removes dead skin cells and dirt, to cleanse the skin.
【Metasilicic acid】
This is a moisture component that is also used in cosmetics. Found in abundance in the hot springs at Tamatsukuri, these 'springs for beautiful skin' will beautify your skin just by bathing in them.
Adachi Museum of Art
This is a private art gallery that houses mainly modern Japanese art, located in Yasugi City, Shimane Prefecture. It is renowned for its 130 works by Taikan Yokoyama and its traditional Japanese garden.
A local entrepreneur, Zenko Adachi (1899 – 1990), opened the museum at the age of 71, in 1970. In addition to works by Taikan, it also contains works by the masters of the modern Japanese art world, including Seiho Takeuchi, Kansetsu Hashimoto, Gyokudo Kawai, Shoen Uemura, as well as ceramic art by Rosanjin Kitaoji and Kanjiro Kawai, children's pictures by Yoshio Hayashi and Toshio Suzuki, and wood carvings by Denchu Hiragushi, among others.
Another feature of this museum is its expansive Japanese garden. The garden is divided into six sections, including the Dry Landscape Garden, White Gravel and Pine Garden, and Pond Garden, and its area spans across 165,000 square meters. The dedicated gardeners and art gallery staff tend to and clean the garden every day, and true to Zenko's words "the garden is also a painting", this garden, which is as beautiful as a painting, is highly acclaimed overseas as well as in Japan. Adopting the 'borrowed landscape' method, one of the landscape gardening techniques used for Japanese gardens, the formal beauty that incorporates and interweaves far-off mountains and trees is exceptional.
In the Japanese garden ranking (Shiosai Ranking) announced by the American magazine on Japanese gardens, Sukiya Living/The Journal of Japanese Gardening, (Shiosai Ranking), out of 803 famous spots and historical sites throughout the country, the Adachi Museum of Art's garden was ranked as the number one garden in Japan for eight consecutive years, from the first time the ranking was held in 2003 to 2010. This is a comprehensive judgment of a number of elements, including 'the quality of the garden itself', 'harmony with buildings', and 'services for visitors'. It has also been awarded three stars (must-see) in the Michelin Green Guide Japan.